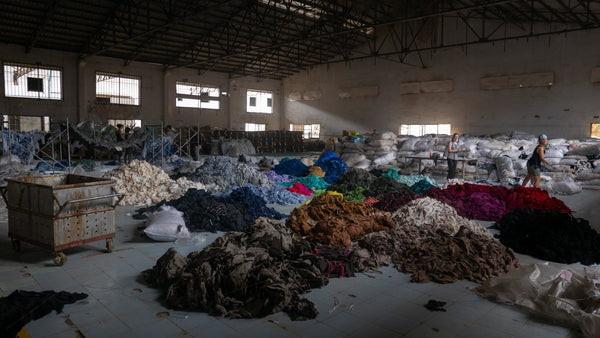 Donations are Only a Part of the Solution
Many parents donate baby and kids' clothing to charities to both keep used clothing out of the landfill and also help out vulnerable families in the community.
But not all donations follow a simple path to the next kid.  
The Council for Textile Recycling estimates that, overall, charities sell only 20 percent of the clothing donated to them at their retail outlets. The remaining clothing is often sold by charities to textile recycling companies that then sell the clothing to local resellers, recycle clothing into industrial rags and materials, or sell to the developing world. At a time when the volume of textiles we put in the garbage is skyrocketing, these are all much better alternatives to throwing clothes directly in the trash. 
But this model isn't a perfect solution because we have more clothing circulating than people can actually use. Charities are selling donated clothing to textile recyclers because there is simply too much of it, and the clothing is often of poor quality due to the prominence of "fast fashion". Further, aptly stated on weardonaterecycle.org, American textile recyclers are responsible for a whopping 700,000 tons of used clothing sent abroad each year, creating environmental crises in poorer countries that are overwhelmed by more clothing than can actually be used in the region, contributing to significant textile waste.
The root of the problem is that there is simply too much clothing out there and creating all of this clothing generates significant carbon emissions and wastewater, while 85% of textiles end up in the landfill. The average person today buys 60 percent more items of clothing than they did 15 years ago. If we want to really move the needle in terms of reducing the environmental impacts of our clothing, we need to buy less and reuse more. This can be done by buying higher-quality, durable clothing that lasts longer, as well as buying and wearing secondhand clothing. If everyone bought one used item, instead of buying new, it would save 449 million pounds of waste.
Don't get me wrong; donations are still a very good way to help families in need and promote reuse, particularly when you donate to local not-for-profit organizations that are plugged into the community and can efficiently match donations to the immediate needs of vulnerable people in the community (and this is why Bounce Mkt collaborates with Hoboken-based not-for-profit organizations to get unsold items in the hands of our neighbors in need!). But buying new and then donating is only going to get us so far; we need to reduce the amount of clothing we produce. 
Our goal at Bounce Mkt is to create an amazing sustainable shopping experience that motivates parents to buy (and sell) used kids' clothing, rather than new. In doing so, we can do our part to cut down on the production of new clothes. 
References: WearDonateRecycle.org, The Washington Post, ABC News Australia, Business Insider, McKinsey and Levi Strauss. 
Thanks for reading, 
Kelli B.