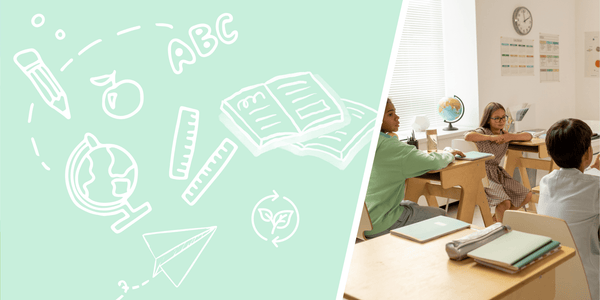 How To Teach Young Kids About Sustainability
Kids across the country are heading back to school and there is one topic that we're excited to teach our kids about - sustainability. The UN describes sustainability as "meeting the needs of the present without compromising the ability of future generations to meet their own needs." As parents, we're hardwired to do our best to set our kids up for success and ensuring that we're preserving our ecosystem and natural resources for them is undoubtedly part of it.
 So, is it worth teaching sustainability to kids at a young age? We think so! The unfortunate reality is that kids are likely to see more extreme and severe climate events than we have; one study finds that today's children will experience four times more climate extremes in their lifetime than they do now and there are indications that young people are increasingly anxious about climate change. But it isn't all bad – teaching kids about sustainability can help them to understand what is taking happening, feel empowered, and create a generation that is well-equipped to tackle climate challenges.
Tips for Teaching Young Kids About Sustainability:
Cultivate a love of nature.
One of the best ways to help kids understand sustainability is to give them opportunities to develop a love of nature. Sustainability is built on a healthy appreciation for our natural world so get outside, go on a hike, visit animal refuges and sanctuaries, or spend time in a state park. Need another reason to get outside?  Trees make people feel better, and we can also use a little boost.
Help kids feel empowered.
Talk with your kids about what is being done to take care of the planet. By focusing on solutions, including the small steps they and others can take in their everyday lives, we can create a sense of optimism and show how there is already some momentum for positive change. 
Model sustainable behaviors.
Like so many things, kids learn by example. If they see their loved ones taking small steps to reduce their environmental impact, they too will pick them up. So keep on doing what you're doing to reduce your impact (e.g., using reusable bags, visiting zero waste shops, buying pre-loved, composting, etc.) and explain to kids how these acts, collectively, can make a difference.
Find age-appropriate books.
We all know how impactful reading to young children can be, so why not throw some sustainability-focused books into the mix? Need some ideas for books for littles? Check out this list (many of the titles we actually have on our bookshelf in our shop to entertain our youngest clients!).
They might be little now, but soon enough our kids will become stewards of the environment and they will inherit both the good and the bad. Let's do our bit to prepare them to take it on.