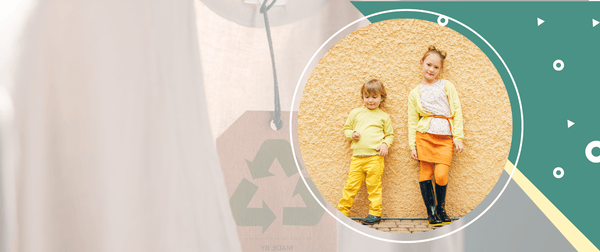 How To Sustainably Refresh Kids' Closets
How To Sustainably Refresh Kids' Closets
Refreshing your kids' closet is a bit different than cleaning out your own wardrobe. While adults channel their inner Marie Kondo to zero in on the clothes that they feel great wearing, doing a wardrobe refresh for kids is much more about making sure they have seasonally appropriate pieces in the right sizes (easier said than done with all those growth spurts!). 
Here are some tips for refreshing your kids' closet with minimal hassle and impact on the environment: 
Keep a bin in your kids' closets so you can easily keep everything they've outgrown in one spot. Every time you see your kid attempt to squeeze into a tee that is about two sizes too small, throw it in the bin! By doing this on a regular basis, you can avoid a time-consuming big purge.

Decide if the clean out is best done as a joint activity with your kid (to get their buy-in and/or teach them about sustainability) or without your kid (as it can go quicker solo!). 

Identify any stained or damaged items to go to textile recycling. Only

15% of textiles are recycled

but it is important to keep in mind even the most damaged textiles can be recycled. Bonus if the textile recycler has an environmental mission, such as B-Corp

Helpsy

! 

For items that are still in good condition, determine if you're going to give the clothes to a friend/family member, donate to a non-profit, or sell them. Be mindful of where you donate and prioritize local non-profits that will ensure the items go directly to people in need. And remember, damaged items should not be donated as it takes previous volunteer time to weed out items that aren't suitable for donation. Instead, they should go to textile recycling. An easy test – if you wouldn't feel good about giving a piece of clothing to a friend, then it probably isn't right to give it to a person in need. 

Consider selling your items, either on your own or through a resale shop. One big benefit of selling the items is that you know that they will go to someone who wants them enough that they are willing to purchase them. There is less risk that they will just sit unworn in a bag in someone's closet! If you want to get the maximum amount of money for the items you sell, it may make sense to sell them directly on a peer-to-peer marketplace where you can set the price. If convenience is your priority, consider selling through a resale business (online or local) that will do the work of pricing, tagging, photographing, and listing the items for you.
Take stock of what is in your kid's cleaned out closet before buying more clothes to avoid buying items that your kid doesn't need or won't wear. Once you know where the gaps are, look to secondhand shops (local or online) to fill them in. 

If you're going to buy clothes new, look for sustainable fashion brands that take steps to minimize their environmental footprint and consider sizing up so your kid can wear it longer.

Good On You

is a great resource for finding sustainable fashion brands! 
Happy de-cluttering!