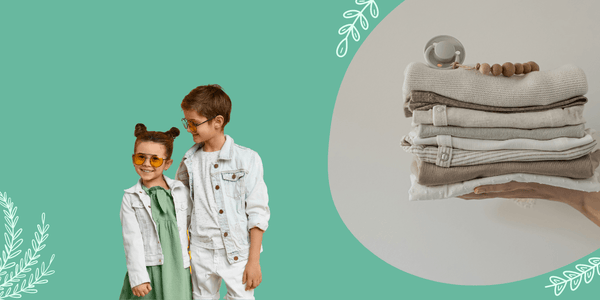 How to Build a Kids' Capsule Wardrobe
Keeping your child's closet in order can feel like a full-time job. Between multiple outfit changes in a day and endless loads of laundry, managing your little one's wardrobe is not an easy task. A simple - and sustainable - solution to this never-ending chaos is a kids' capsule wardrobe. It saves storage space, makes it easier to pull an outfit together, - and reduces the consumer impact on the planet by minimizing what you need!
At Bounce Mkt, we believe that kids' sustainable fashion can not only simplify the stressful life of a parent but also greatly reduce the environmental impact of the fast fashion industry. In this article, we are going to cover how to build a kids' capsule wardrobe that is both parent- and environmentally friendly. Let's get started!
What Is a Kids' Capsule Wardrobe?
A capsule wardrobe is a collection of carefully curated clothing pieces that can be easily mixed and matched with each other. As a result, you get a variety of looks suitable for all occasions, with only a small number of clothing items in your closet.
This set-up is becoming increasingly popular among adults, - but, if adults can benefit from capsule wardrobes, so can children! A typical kids' capsule wardrobe will include a set of several tops, bottoms, outerwear, shoes, and accessories that can be easily combined to create multiple casual or smart looks, and anything in between.
Why Build a Capsule Wardrobe for Your Child?
The benefits of having a capsule wardrobe for you and your children are difficult to overestimate: it's simple, cost-effective, and sustainable. While it requires some initial planning, when complete, the wardrobe capsule will offer a quick and easy way to get your kid ready in the morning, whatever the weather or occasion. Here are some important benefits associated with having a capsule wardrobe for your child:
Makes Your Life Easier
As adults, we make up to 35,000 decisions each day, and children make around 3,000 per day. Not surprisingly, choosing what to wear among a myriad of tiny t-shirts and pants can feel overwhelming - both for parents and their kids. 
Decision fatigue has pushed many adults to adopt capsule wardrobes, – and kids' capsules can simplify the arduous process of getting a small child dressed and out the door in the morning!
Saves You Money
Children grow quickly, which means that their wardrobes need to be fully renewed every season. When you fill your kid's closet with several stylish and interchangeable pieces, you can reduce the total number of items needed.
Buying high-quality secondhand clothing pieces from dedicated stores like Bounce Mkt can help you build a capsule wardrobe on a budget. Our carefully curated collections make it easy to find clothing that will perfectly fit into your little one's capsule wardrobe, - all from the convenience of your home.
Better for the Planet
Clothing production is extremely resource-intensive: the fashion industry accounts for 20% of global wastewater and 8% of global greenhouse gas emissions. What's more, these staggering numbers have been increasing in recent decades, which means that it's time to rethink how we buy clothes.
If you wish to lead a more eco-friendly and sustainable lifestyle, investing in a capsule wardrobe for yourself and your kids is a great place to start. Buying less and extending the life of items that already exist offers big environmental benefits by reducing waste that is associated with fast fashion.
Tips for Building a Capsule Wardrobe for Kids
Building a capsule wardrobe for your kids may sound complicated, but it is not. All that's needed to create a minimalist wardrobe is a little planning and intention behind the shopping choices you make. Below, we have compiled a few easy tips for building an effective kids' capsule wardrobe.
Opt for Quality Over Quantity
Without a doubt, opting for cheap kids' clothes can be tempting: children outgrow or wear through clothing quickly. However, a better approach is to buy fewer items of higher quality, which will look better and last longer. Both strategies will keep your kid dressed, but the latter can reduce your environmental footprint and save you money in the long run.
Look for Functional and Versatile Pieces 
Building a kids' capsule wardrobe is all about choosing versatile pieces that can be mixed and matched together. Each season, your kid will need bottoms and tops - all of which should look well when worn with each other.
A good starting point is to choose neutral bottoms that can be worn with multiple tops. When it comes to t-shirts and tops, go for ones that can be worn on their own or layered with a sweater or vest. For girls, you can throw in some dresses, - these are an excellent choice, as they present a full outfit in and of itself.
Stick to a Color Family
A child with a capsule wardrobe does not have to be a victim of the "sad beige baby" aesthetic (though we, personally, also love some solid neutrals!). Kids often have strong preferences about colors, and you can take that into account when buying their clothes.
You can easily add color to the capsule, - just make sure to stick with a single-color palette, focusing on the colors that look good together. After all, being able to mix and match everything is a key piece of any capsule wardrobe.
Shop Pre-Loved 
A good capsule wardrobe combines quality and affordability, - but how can you fill your kids' closet with high-quality items without spending a fortune? Shopping pre-loved is your answer!
One of the big advantages of buying pre-loved, or secondhand, clothing is that you can get higher quality items for cheaper. For example, when shopping at Bounce Mkt, you can easily buy brands known for their durability, for a cost that is on par with fast fashion.
Ensure Comfort 
Any parent can attest: if it isn't comfortable, kids won't wear it. To create a functional kids' capsule wardrobe, ensuring utmost comfort is a must. Consider the styles your child loves wearing the most and stick with similar items. If your child is old enough, take them shopping with you - or involve them in the online shopping experience.
Get the Kid's Buy-In 
Depending on your kid's age and personality, it might help to let them be part of the shopping process. When they go with you and help pick out items in the store, they will often be eager to wear what they helped to buy. Even when shopping online, you can consult your child to see what styles they love and will be more likely to wear.
As an added benefit, involving your children in the shopping process can help to foster independence and decision-making abilities, as well as help them develop their own sense of style and individuality.
Take Care of Clothes 
One key aspect of a capsule wardrobe is being mindful of how you care for clothes to ensure that they will last over time. A minimalist clothing capsule will consist of fewer items that can be worn more often.
Something as simple as following care instructions, using cold water, and washing clothes inside out can all help to ensure that the clothes continue to look good wash after wash. Handwashing more delicate items can drastically extend their life as well.
Create a High-Quality Children's Capsule Wardrobe with Bounce Mkt
Without a doubt, finding high-quality affordable pieces for a kids' capsule wardrobe can present a challenge. Among cheap fast-fashion clothes, more sustainable items made with better materials can seem like an unnecessary expense. 
The good news is that with Bounce Mkt, you don't have to compromise between quality and affordability! Our strict quality standards help to ensure that we carry durable pre-loved clothes that look and feel just like new. Plus, our carefully curated collections make it easy to find the right items to complete the wardrobe capsule for your little one. Shop now.