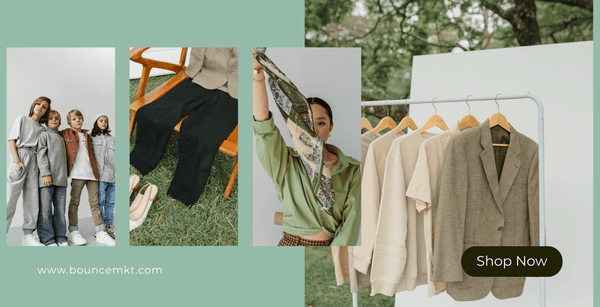 Best Online Second-Hand Stores & Pre-Loved Shops | Bounce Mkt
In today's world of mass production and fast fashion, shopping sustainably is more important than ever.
For environmentally conscious fashion enthusiasts, buying pre-loved clothing from online secondhand stores has become a convenient solution for all of their shopping needs. Not only does it reduce waste and carbon footprint, but it allows individuals to find truly unique, high-quality items, at a fraction of the original price.
At Bounce Mkt, we have compiled a list of the best secondhand online stores for everything from high-end fashion to furniture and baby gear. Whether you are looking for modern trends or vintage pieces, these pre-loved shops are sure to provide you with endless options to choose from.
Finding the Best Online Secondhand Stores: What to Look For
Among the myriad of online secondhand stores, finding "the one" for your needs can take time. At Bounce Mkt, we did the work for you and are sharing our favorite shops that offer pre-loved clothes and other items. So, what do we think makes an online secondhand store great? 
Rigorous Quality Checks
Rigorous quality checks are essential for any store, and even more so for online shops that carry pre-loved items. Let's be honest: you would hate to order a beautiful item online just to be disappointed by its poor condition upon delivery.
Mysterious stains, funky smells, and general wear and tear are not uncommon for thrift clothing, but a good online secondhand store will conduct rigorous quality checks and only sell items in tip-top condition. For example, when you shop at Bounce Mkt, you can be confident that our pre-loved clothes are clean and look like new!
Convenient Shopping Experience
With more online shopping options, the days of rummaging through local thrift stores or meeting up with strangers from online marketplaces are in the past. When you visit one of the best online secondhand stores, you should expect a convenient, efficient, and stress-free shopping experience from beginning to end.
In general, a good online pre-loved shop will have the following convenience features:
User-friendly interface.

A well-designed, intuitive interface that is easy to navigate is a must!  
Transparent shipping and return policies.

Clear shipping options and timelines, along with return and exchange policies, help you shop with confidence. 
Efficient customer service.

A great online second-hand store should also be equipped with a quick and efficient customer service team to help resolve any issues. 
Extensive Product Selection
The best secondhand online stores have the best product selection. We look for online stores that have a strong collection of quality brands with seasonal styles – so you save time and effort looking for what you need on the website.  
Secondhand Online Stores We Love
Below, we have compiled a list of our favorite online pre-loved shops that offer a wide variety of high-quality products for any style and occasion.
Best for Adults: The RealReal
With a focus on authenticated luxury consignment, The RealReal online store offers a wide selection of designer fashion and accessories. The store carries a great variety of designer brands, from high-end luxury labels like Louis Vuitton and Chanel to contemporary designers like Proenza Schouler and Alexander Wang. In addition to female fashion, The RealReal also offers a selection of men's and children's clothing, as well as some fine jewelry and home decor.
What We Love About The RealReal:
All items sold on the website are authenticated by a team of experts, so you can be confident to receive genuine designer brands.

The store makes it easy to build a capsule wardrobe by securing high-quality pieces from brands known for quality and durability. 

Item descriptions provide a clear view of the condition of each item, so you know exactly what you're getting. 
Best for Kids: Bounce Mkt
Bounce Mkt is an online store that carries a curated collection of pre-loved kids' clothes for boys and girls of all ages. All the items listed are laundered for hygiene and go through rigorous quality control, ensuring that you receive high-quality clothes from brands that you love and trust, at great prices.
What We Love About Bounce Mkt:
Bounce Mkt thoroughly inspects and vets each item, so you can rest assured that you're getting the best of pre-loved, high-quality pieces that are in excellent condition. 

The store carries children's clothes in a wide variety of styles and sizes, suitable for newborns to eight years. 

Bounce Mkt has a strong sustainability-driven mission, aiming to reduce the environmental impact of fashion production and promote more eco-friendly consumption practices.
Best for Shoes: GOAT
GOAT is an online shoe store that specializes in the sale of authenticated pre-owned sneakers. While the selection offered on the website may be on the pricier side, you can rest assured that all of the sneakers sold by GOAT are genuine, whether they be from well-known companies like Adidas, Nike, and Jordan, or more niche brands.
What We Love About GOAT:
GOAT's Clean program professionally cleans select used sneakers so that they look like new. 

All of the items carried by GOAT are verified by a team of experts to ensure that customers receive authentic, high-quality sneakers.

The company also offers a mobile app that allows users to easily sell and buy sneakers through their phones.
Best For Outerwear: Patagonia Worn Wear
Patagonia Worn Wear specializes in the sale of high-quality, gently used Patagonia clothing and gear. Known for its quality, Patagonia clothing is built to last, - and their Worn Wear program is just another way Patagonia is keeping items in use longer. 
What We Love About Patagonia Worn Wear:
Patagonia's Worn Wear program makes it easy to trade in and buy used Patagonia products.

All of the items sold under the program have been rigorously inspected, repaired, and cleaned to ensure that they are of the highest quality and meet Patagonia's standards.

The website offers an excellent selection of outerwear. Plus, you get big savings on such items, which can be quite expensive when bought new.
Best for Maternity: Rent The Runway
Rent The Runway is an online fashion store that allows customers to rent designer clothing and accessories for a fraction of the retail price. If you are expecting, renting maternity clothes through Rent The Runway can be an excellent option to dress more sustainably and save money at the same time.
What We Love About Rent The Runway:
Rent The Runway is a great option for women looking for a few pieces during pregnancy. 

The store carries a broad selection of clothing items, from high-end fashion suitable for special occasions to everyday wear.

Rent The Runway offers an RTR Unlimited subscription service, which allows you to rent an unlimited number of items each month for a flat fee.
Best for Baby Gear: GoodBuy Gear
GoodBuy Gear is an online secondhand store that specializes in selling high-quality gently-used baby gear at affordable prices. The store carries anything you might need for a baby, including car seats, strollers, high chairs, and more.
What We Love About GoodBuy Gear:
GoodBuy Gear is an excellent option for purchasing used baby gear - from strollers to high chairs, to bassinets - with confidence.

All baby gear is cleaned, inspected, and tested before being listed to ensure that the items meet the company's high standards for safety and quality.

The store carries lots of baby gear from quality brands – all at big discounts! 
Best for Toys: Loop
Kids' attention span for individual toys only lasts so long, - and buying new toys all the time can quickly drain any parent's budget! Luckily, with Loop online store, you can rent out toys and other items for your little ones at affordable prices. All items carried at the store are carefully inspected and sanitized before and after each rental to ensure that they meet the highest standards of safety and cleanliness.
What We Love About Loop:
Renting toys from Loop makes it easy to swap toys in and out based on your child's interest, at affordable prices.

All the toys undergo thorough cleaning and safety inspection, meaning that you can rest easy knowing that your little ones get only the highest-quality items.

Flexible rental options mean that customers can rent items for as long or as short a period as they need.
Best For Furniture: Kaiyo
Kaiyo is an online secondhand store that offers high-quality, gently used furniture at affordable prices. Here, you can shop for sofas, tables, chairs, beds, dressers, and more - all carefully cleaned and inspected to ensure that the items meet Kaiyo's safety and quality standards.
What We Love About Kaiyo:
Kaiyo carries an amazing selection of high-quality furniture. 

All items are thoroughly cleaned and inspected before being listed for sale.

The company's white-glove delivery service takes the hassle out of delivery associated with buying furniture secondhand.
Final Word
Without a doubt, buying pre-loved clothes and other items online is an excellent way to shop more sustainably while also being gentle on your wallet. Of course, online secondhand and thrift shop options are virtually endless, but we recommend choosing the stores that carry a rich collection of high-quality items from brands you can trust.
Due to our rigorous quality control process, a wide selection of items, and convenient online shopping experience, Bounce Mkt is one of the best online secondhand stores for children's clothes out there (though we are, of course, biased). Shop now and discover our collection of baby and kids' clothes for yourself.